My Lady got her and I tickets to see the Lakers barley beat the Houston Rockets in overtime last night. It was such an awesome game!
Me and the Zen Master comparing ties.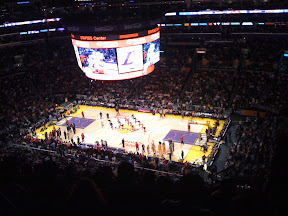 The LLLLLLLLLLaker Girls from far away. But, y'know the seats were not bad at all. That place is huge but it still felt like we were right there in the action.
We are heading to Mexico City today and we ran into Brandon and Chuck of Crocodiles at LAX. They are going to London today. It was good to bump into those guys and catch up for a minute.
Check them out on tour if you are in Europe.
Cut and paste the link bellow:
http://eventful.com/performers/crocodiles-/P0-001-000160150-4
Location:Los Angeles, CA